Upgrade your setup with these mechanical keyboard picks that are purpose-built to make the most of your Mac
The history of the Mac mechanical keyboard goes back almost all the way to the beginning of Apple computers. While Apple's official keyboard offerings have come to favor a low-profile and minimalist form since the late aughts, many companies are still carrying on the legacy of satisfying and accurate typing which can only come from keyboards purpose-built for more demanding users.
One of the first and best known keyboards created by Apple was built right into the shell of the Apple II. The iconic all-in-one design yielded to more individual, upgradeable components in the years ahead, and the Apple Extended Keyboard quickly emerged as a favorite among high-end Mac users. Beyond offering more keys for more purposes, the Apple Extended Keyboard was also beloved for the satisfying sound and feel of its mechanical switches
Mechanical switches have come back in a big way in recent years, and modern models even combine wireless mechanical keyboard Mac solutions with a classic (or totally new) look and feel. With all that in mind, here are the 7 best mechanical keyboards (in our opinion) for Mac users of today.
Jump to a section…
Das Keyboard 4 Professional for Mac
HHKB Pro HYBRID Type-S
The HHKB Pro HYBRID Type-S is the latest refinement of a design created 25 years ago by computer scientist Eiiti Wada, driven by a desire to make a more practical and enjoyable typing experience for power users. Its silent, electrostatic capacitive Topre switches are a favorite among enthusiasts, and if you miss the audible click and clack, you can always opt for the non-silent model instead. Its thoughtfully minimized key layout can be instantly optimized for Mac functionality by simply flipping a switch on the underside of the board. The HHKB Pro HYBRID Type-S supports up to four synced devices so it's just as easy to use with your iPad or iPhone as it is to use as a Bluetooth mechanical keyboard for Mac. Rest it on top of your Macbook for a superior typing experience on the go with or without a wire.
ZSA Moonlander
If you're open to nontraditional layouts and enjoy the idea of perfectly customizing your setup, the ZSA Moonlander is a great Mac mechanical keyboard option. Moonlander's split design arrays its keys across two independent halves connected by a single wire. Each half sports adjustable legs and thumb wings to promote a more ergonomic typing posture — it may take a little while to get it all feeling just right, but the end result is worth the effort. Meanwhile, ZSA's web-based software lets you individually customize functions for each key to swap between layouts on the fly or implement multiple functions based on how and when they're pressed.
Did You Know? The HHKB layout repositions the control key to make it easier to execute more time-saving commands without leaving the home row. Click here to learn more.
Das Keyboard 4 Professional for Mac
As the name indicates, Das Keyboard 4 Professional for Mac is an excellent option for a keyboard with a professional look, a solid feel, and just the right assortment of modern conveniences. Each key switch is gold-plated for optimal durability, with a functional life of up to 50 million keystrokes. This dedicated Mac mechanical keyboard model features built-in Mac OS specific key functions for swapping between screens, adjusting your brightness, and more. The oversized volume knob and adjacent media controls make it easy to stay in your flow state even as you hammer out lengthy programs or documents, and the included USB 3.0 hub means less reaching and contorting to plug in other devices.
Matias Tactile Pro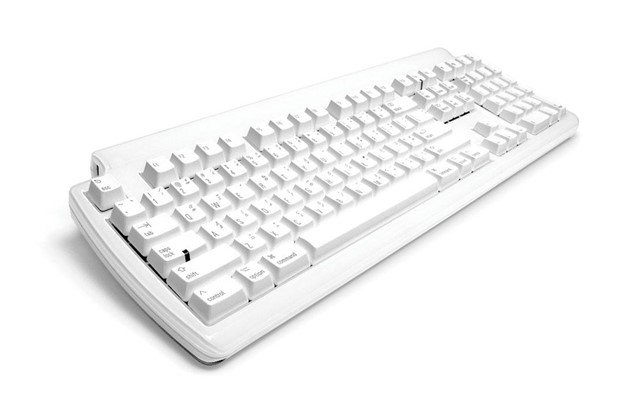 The Matias Tactile Pro goes for the title of modern-day successor to the original and beloved Apple Extended Keyboard, right down to the same key switch manufacturer. It features laser-etched, sculpted keycaps (which, while not as sleek as the flat keyboards of modern Macs, can be easier to type on) with a dedicated layout for all the Mac-specific functions you may need. Its clean and minimalist white frame means it won't look out of place next to your Cupertino-designed setup, all without sacrificing the high-end speed and performance you'd expect from a Mac mechanical keyboard.
Epomaker GK96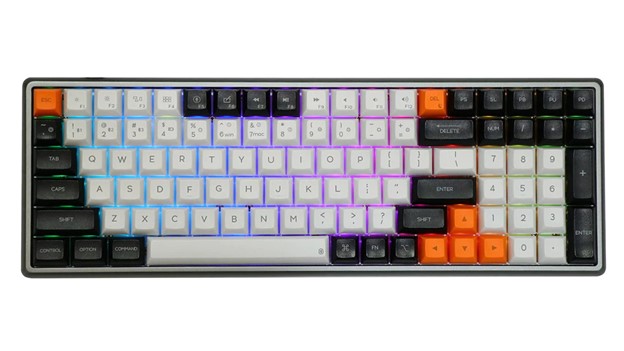 The Epomaker GK96 uses a compact 96% format which aims to provide the same function as a full-sized keyboard while taking up significantly less space on your desk - and gives it the unique look of one uninterrupted block of keycaps. The GK96 comes complete with function keys as well as a dedicated number pad, and you can even opt for a model with the number pad and associated keys on the left side of the board if you use them a lot or just like the look better. Its built-in rechargeable battery and support for up to four synced devices make it another Bluetooth mechanical keyboard Mac option as well.
Did You Know? Handy HHKB accessories such as a keyboard lid and adjustable stand help make the most of your board. Click here to learn more.
Varmilo A87M Mac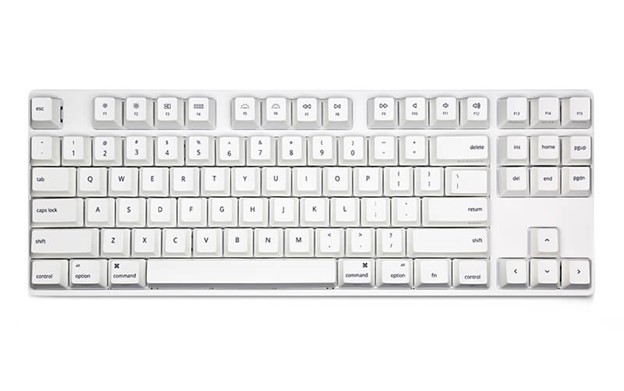 If you're looking for one of the best solid, no-frills mechanical keyboards for Mac, you'll be very well served by the Varmilo A87M Mac. Its classic white design and tenkeyless layout mean it will fit in well on just about any desk setup, and it features a dedicated Mac mode which will get all of your keys working just as you'd expect, including built-in support for dimming and brightening your screen as well as media controls. You can also swap the Varmilo A87M Mac to Windows mode with a built-in key combination just in case you're planning to use the same board with a PC.
Keychron C1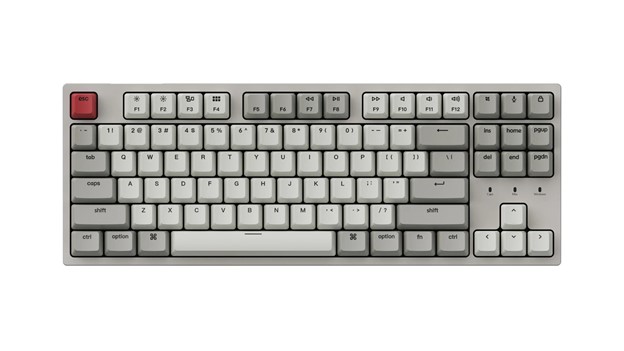 You don't have to spend hundreds of dollars to get a quality Mac mechanical keyboard; you don't even have to spend $40. The Keychron C1 is an almost unbelievably good value for its price, offering a fully Mac-optimized key layout and classic office-friendly color scheme with a single red Escape key to make the whole thing pop. It even comes with alternative Windows-friendly keys just in case. This most affordable version doesn't have hot-swappable switches or eye-catching LED lighting, but it does offer an extremely cost-effective option for any kind of typist looking for a new workhorse to rely on.
Looking for even more options? Make sure you check out the whole range of high-end keyboards from HHKB.