The keyboards that remind us legacy tech isn't always a bad thing
Classic design holds a special place in the heart of many keyboard enthusiasts. As much as the technology has evolved over the years, there's something to be said about retro and vintage keyboards. Sometimes the oldies really are the goodies.
For those who've started to build such a collection — or may be well into their journey — this article will help ensure you nab the best of yesteryear's tech.
Check out The Ultimate Guide to Mechanical Keyboards for even more expert advice and information.
Jump to a section…
5 retro and vintage mechanical keyboards every collector should covet
5 retro and vintage mechanical keyboards every collector should covet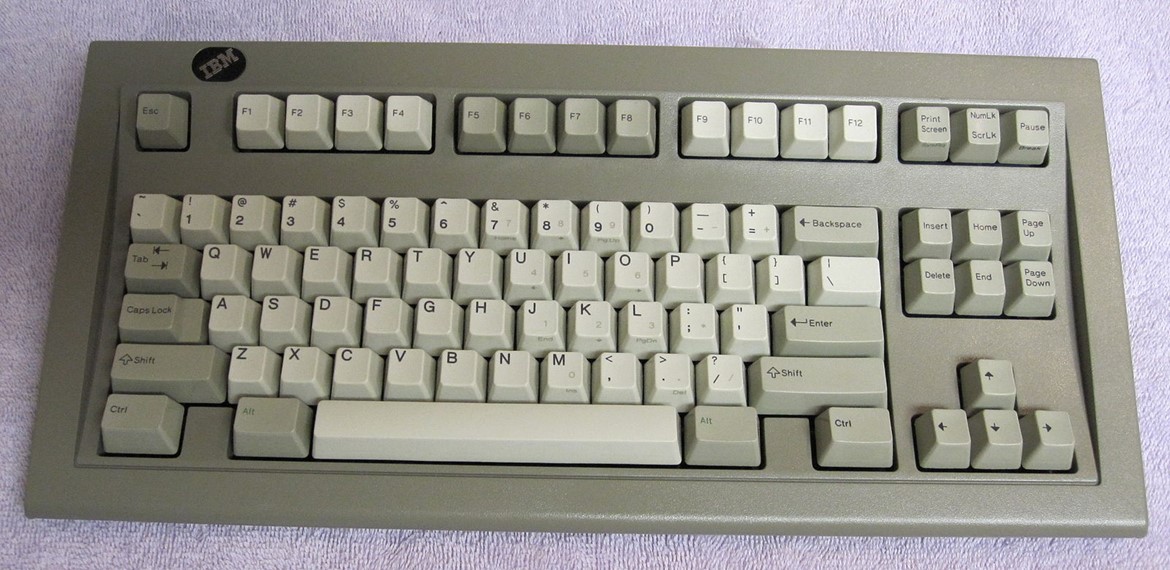 Source: Wikimedia
IBM Model M
No list of classic keyboards is complete without mentioning the IBM Enhanced Keyboard — part of the family of keyboards more commonly known by their internal designation, "Model M." Perhaps the most influential keyboard of all time, the Model M established keyboard layout standards the industry has continued to follow to this day. Before the Model M was introduced, the arrangement of the arrow keys, number keys, and navigation cluster varied widely across manufacturers. To find the most user-friendly layout, IBM created a large internal task force with the mission of testing its way to perfection. The company's investment paid off, producing a popular design that would be copied for decades to come.
But the layout isn't all this legendary keyboard has to offer. The Model M's feel — produced by switches that use a unique buckling spring and membrane design — is considered by many enthusiasts to be the best of any keyboard ever created. The keyboard's build quality is also stellar. From its anti-yellowing plastics to sizable heft of five pounds, the Model M is a durable device that looks great no matter how many years it's been sitting on your desk.
While some of the vintage keyboards on this list are fairly difficult to find, you can easily snap up your own IBM Model M on eBay.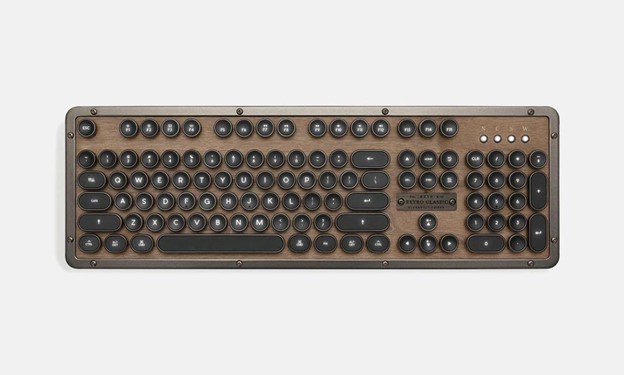 Source: Aziocorp.com
Azio Retro Classic
If the Model M looks like the computer keyboard everyone had in the 90s, the Azio Retro Classic is straight out of a Jules Verne novel. This stunning, steampunk-esque keyboard couples the dignity of an old-fashioned typewriter with the performance of a modern mechanical keyboard — earning high marks on both style and substance.
If it's not clear already, the keyboard is just beautiful. The elegant, two-toned colored scheme is easy on the eyes, as are its rounded, metal-wrapped keycaps, which contrast sharply against the Azio Retro Classic's monotone, textured backdrop. And the keyboard's per-key backlighting makes your keycap legends pop, especially during midnight work sessions.
When it comes to typing, the Azio Retro Classic is a joy to use. Not only are its tactile key switches highly responsive, but they also evoke that trademark clicky-clack sound that will have you feeling like a journalist about to break a huge story. Finally, its luxurious, sleek, and comfortable wrist rest ensures long typing sessions are kinder to your body.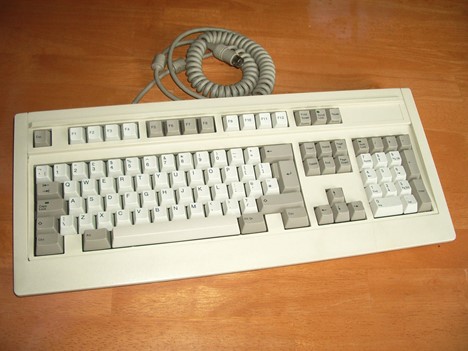 Source: Deskthority.net
Fujitsu FKB4700
The Fujitsu FKB4700 is an essential part of any dedicated vintage keyboard enthusiasts' collection.
Like the Model M, the FKB4700's build quality is remarkable. With its resilient plastic case, thick metal backplate, and heavy-duty construction, this vintage keyboard checks all the boxes for durability. This means that if you decide to pick one up at a local used shop or on eBay, it's probably still going strong.
The typing experience is unique, largely due to its Peerless switches. While these uniquely designed switches have a nice, quiet sound profile, the feel they provide varies across the keys. Some of your keypresses will feel smooth, while others may be rougher under your fingertips, especially the stabilized keys. At 2.8mm, the switches also have a relatively long pretravel, which may catch enthusiasts used to more compact actuation points off guard.
Overall, the Fujitsu FKB4700 is a high-quality board with some intriguing switch technology: In other words, the perfect collector's item.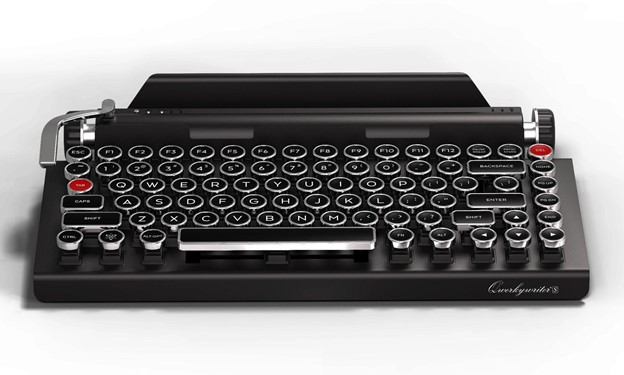 Source: Qwerkywriter
Qwerkywriter
For enthusiasts who are truly dedicated to that retro typewriter look and feel, the Qwerkywriter is worth checking out. While the Azio Retro Classic incorporates some aspects of classic typewriter design, this keyboard does much more than tip its hat to old-school technology. From roller knobs that control volume and scrolling to the cast metal return bar that functions as an enter button, nearly everything about the keyboard's aesthetics is a clever reminder of a bygone era. This feeling is even reinforced by the keyboard's material composition: Few things send you back in time like heavy, all-metal construction.
As for the performance, the keyboard uses Cherry MX Blues switches — which err on the louder side of things — to deliver a healthy degree of tactile and audible feedback. Also, the integration of unique features like the return bar means the typing experience itself is inherently (and enjoyably) nostalgic.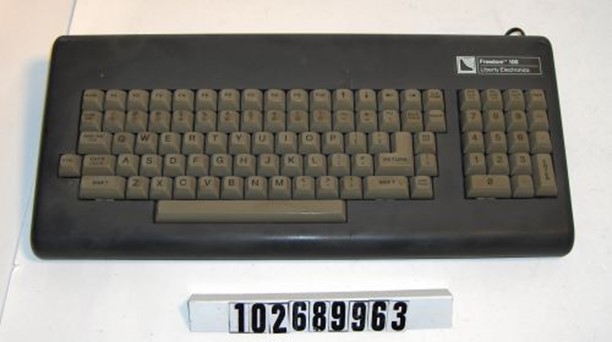 Source: ComputerHistory.org
Liberty / Morrow BT1200A-1
While you'll find a good set of options on eBay for the Model M and the Fujitsu FKB4700, the same cannot be said for the Liberty / Morrow BT1200A-1. Sold as part of the Liberty Freedom 100 personal computer, these relatively rare vintage keyboards are a real find these days.
And honestly, they should be. Large, beautiful, and sleek, the Liberty / Morrow BT1200A-1 is easily one of the prettiest vintage keyboards ever made. Everything about this keyboard screams style: the black case, slate grey keycaps, and thick legends. Even its layout, designed before the homogenization of the post-Model M era, is remarkable.
But the Liberty / Morrow BT1200A-1 isn't only nice to look at. It's also just plain well-made. Weighing in at almost 3.7 lbs, this durable keyboard is rated for an amazing 100 million keystrokes, which, as a point of reference, is about four times as long as Model Ms typically last.
With so much going for this classic keyboard, consider snapping it up as fast as possible if you do manage to dig one up.
The new classics
While retro and vintage mechanical keyboards aren't for everyone, these five are great choices for any enthusiast with a penchant for the classics.
Speaking of classics, not all legendary keyboards are a product — or look like they were a product — of the past. Some keyboard manufacturers who pioneered the technology back in the early days of the computer are still developing models that will be the envy of enthusiasts long into the future. We've been developing models that enthusiasts envy today, while staying true to our 25-year historic design and layout. In short, our Happy Hacking Keyboard line combines the very best of the past and present. Click here to check out our entire collection today.