Find out what the different profiles mean and how to find the best one for your unique typing setup.
Mechanical keyboards are almost infinitely customizable. The different types of key switches that define their movement and sound get a lot of attention, but just as important as what rests under your keys is the keycaps themselves. After all, your fingers can be in constant contact with them for hours at a time, and finding just the right shape can make a difference in your typing comfort and efficiency. Thankfully, you often don't have to leave your choice of keycap profiles up to whatever comes with your board by default.
This article will introduce you to the most common types of keycap profiles on the market, both for mechanical keyboards and beyond. It will also reveal some of their common uses on keyboards that you may already be familiar with, as well as less common keycaps that enthusiasts hold near and dear.
Find the perfect keycaps for every board in your collection with our Essential Guide to Keycaps.
Jump to a section…
The most common types of keycap profiles
Other common types of keycap profiles
What are keycap profiles?
Keycap profiles are categorical classifications that specify the physical shape and size of a keycap — that is, the part of the keyboard your fingers come into direct contact with as you type. Each keycap profile encompasses a certain set of shapes. Hold up any mechanical keyboard and look at it from the side, and you'll see that the keycaps either have an identical height and shape or take different forms depending on their rows. This is one of the primary distinctions between keycap profiles: whether their rows are uniform or are individually "sculpted" to meet the natural flexion and extension of your fingers.
Other distinctions include the height of the keycap, as well as the shape of its top. Some especially round keycaps have a deeply convex shape at the top meant to cradle your fingertips, while others are flat. Note that keycap profiles do not denote any other considerations such as the color of the cap or whether it has transparent or translucent parts for showing off RGB lighting effects, nor do they indicate the cap's material makeup. The chart below illustrates some of the most common keycap profiles in circulation.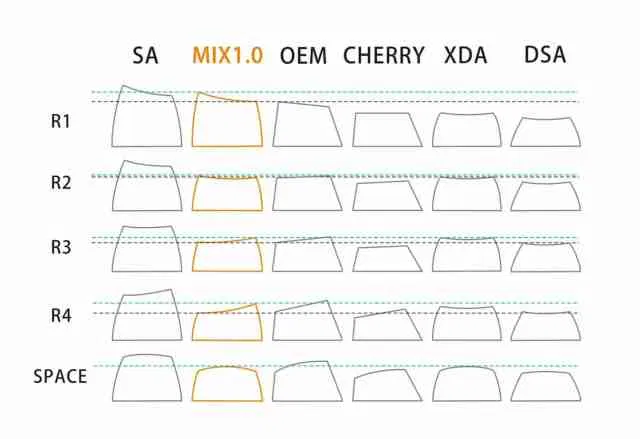 Did you know? The HHKB Professional HYBRID combines three decades of refined design with modern connectivity, making for the ideal use-anywhere board. Click here to learn more.
The most common types of keycap profiles
Certain types of keycap profiles have been available for years, while others emerged more recently thanks to the booming popularity of mechanical keyboards. In either case, here are five of the most common types of keycap profiles you may see when shopping for a new keyboard or standalone caps. As you learn more about each category, Keycaps.info presents a handy way to visualize each profile side-by-side (or overlaid atop each other), or you can refer to the chart above to see how the profiles compare to each other.
OEM keycaps
In the context of keycap profiles, OEM (Original Equipment Manufacturer) denotes a size and shape common to many keyboard makers rather than a particular provenance. OEM profile keycaps are of medium height with an angled top. OEM keycaps also have mildly sculpted rows; the top row of keys is taller in the back and shorter in the front, and vice versa on the other side of the board, to make them easier to press with minimal finger travel from the home row. For OEM, the sculpting effect is subtle enough that you may never notice it if you don't look at your keyboard from the side.
Considering their popularity, if you've used a mass-market mechanical keyboard without knowing what keycap profile it sported, it was probably OEM.
Cherry keycaps
Cherry keycaps have a similar construction to OEM keycaps. They are also of medium height (albeit slightly lower all around), their tops are similarly angled, and they too are sculpted to subtly guide the typing experience from row to row. The largest difference between the two is Cherry's less aggressive sculpting, leading to what some enthusiasts consider to be a more visually pleasing, uniform look with minimal ergonomic sacrifices.
The influential Cherry G80 keyboard, which was first manufactured in 1988 and remains in production today, is one of the best known Cherry keycap boards in existence.
SA keycaps
SA keycaps are some of the tallest keycaps on the market, towering over Cherries and OEMs alike. That additional height on top of the body of the board allows for substantial sculpting, with each row making up part of a semi-cylindrical shape which could be easily observed even without turning the board to the side. Their tops are both angled and concave (the "S" in the name stands for "Spherical"), leaving a significant indent within each key for fingers to rest on.
The unique height and concave appearance of SA keycaps makes them a popular choice for modern keyboards which seek to evoke a retro aesthetic through the use of more round keycaps, though the original runs of SA keys were unsculpted (a design choice which is preserved in the modern DSA keycap profile).
Flat keycaps
Flat keycaps are not a specific kind of keycap profile, but rather an overarching category representing a common design choice. As the name suggests, their tops form a flat surface, without any of the angled or convex shapes commonly employed elsewhere. They are also typically unsculpted, which is helpful in cases where the user may wish to swap their keycaps' positions from their standard configuration; this would create a muddled and hard-to-use design if done with sculpted keys.
While once fairly common in a variety of mass-market boards, flat keycaps have fallen out of favor due to the rise of so-called "Chiclet" keycaps.
"Chiclet" keycaps
Nicknamed for their resemblance to the brand of candy-coated chewing gum, "Chiclet" keycaps are marked by a uniform look and an extremely low profile that seems to barely rise from the surface of the board at all. While some early "Chiclet" keyboards were marked by wobbly buttons that felt odd when pressed off-center, modern designs typically use stable scissor switches to create a more satisfying and reliable keypress action.
"Chiclet" keycaps are useful for keyboards that need to take up as little vertical space as possible, making them a popular choice for laptops. In particular, Apple has run with this profile for use in its Macbook line as well as its standalone Magic Keyboards.
Other common types of keycap profiles
While we've gone into depth on some of the most common keycap profiles above, the industry, hobby, and art of keyboard design goes much further still. Here is a brief primer on further profiles you may encounter on the market.
Topre: These keycaps are specially designed to fit atop Topre key switches, the high-end electrostatic switches that give HHKB keyboards both their precision and satisfying "thock."
MT3: A slightly shorter and less rounded take on the SA profile, MT3 keycaps instead opt for an even more sculpted effect.
DSA: As mentioned above, DSA profile uses a "spherical" top design similar to SA, but without sculpting. This creates a uniform and unique retro look.
Artisan: While all of the above keycap profiles are intended for mass production, some makers also create their own art pieces in the form of special "artisan" keycaps. These often consist of small objects or scenes arranged in resin, and are typically placed as a single accent piece in a prominent location, such as on the Escape key. Check out YouTube creator tinymakesthings' site to see some of the creative ways people approach custom keycaps.
Now that you know about the most prominent types of keycap profiles out there, it's time to start branching out. Many mechanical keyboard enthusiasts have had trouble going back to standard keycaps and switches once they gave Topre a try. If you want to see why they're a favorite among keyboard users, while trying out a thoughtfully revised take on the traditional key layout, be sure to check out the full range of high-end keyboards from HHKB.