Welcome back everyone to our conversation with Indie Game Developer Fred Brown. In Part 1 we learned about Fred and his journey developing the video game, Crystal Story, as well as his thoughts on our keyboards. Today, we will delve more into Fred's daily life, his discovery of HHKB and what the future holds for him.
HHKB: What does your workstation look like?
Fred: My main development machine is a base-model M1 MacBook Air. I also have a PC that I built to use for deploying builds of Crystal Story, and for gaming (which ironically, I don't have much time for these days).
I use a 32" LG QHD monitor as my primary monitor, with my MacBook Air sitting off to the left of it in a Twelve South Curve for a partial dual-monitor setup, and I have some Creative Pebble speakers hooked up to that so I can have some decent audio.
I also have a pair of AirPods that I like to use in Discord meetings, or to listen to tunes while I work on pixel art or programming.
I have an older model iPad Pro (the 9.7" one) that I use to draw cutscenes, take notes, and sometimes do some light pixel art on. (I also have my HYBRID connected to it as well as my iPhone 13 Pro and PC, so I can respond to messages while I'm working.)
It goes without saying, but the only keyboard that I use is my HHKB! I've got a Classic White that I use day-in and day-out for graphic design, game development, general typing, and gaming.
I tend to swap mice around a lot (I'm still looking for an endgame mouse), but usually what stays on my desk is my trusty Magic Trackpad 2 and my MX ERGO M575.
I also have an 8Bitdo SN30 Pro controller that I use when testing out Crystal Story.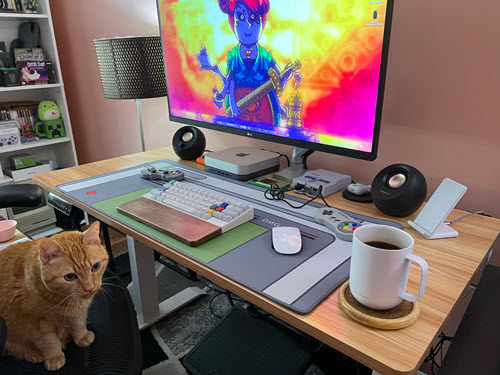 HHKB: What does your daily schedule look like?
Fred: My wife and I both wake up to get ready for work at around 6 AM. She works in-office and I work remotely, so usually my feet hit the floor at around 6:15.
I make a fresh pot of coffee, make breakfast for us, and help her get ready for work while catching up on emails or Slack messages before getting started.
I work from home from 8-5, taking lunch somewhere in between that time slot, and afterwards, my wife is home and we make dinner, eat, catch up on anime while we do, and then do chores.
By then, it's around 7-8-ish, and we split off into our offices to do our own thing.
My wife is a freelance illustrator and writer in addition to her day job, so she's always off doing something cool in her office like creating custom stickers, writing, doing client illustrations, and drawing on her iPad.
In my office, I'm almost always working on the game in some form, whether it be programming, doing cutscenes, writing dialog, sprite work, level design, you name it. I wear a lot of hats, so I'm usually up working late, but I try to head to bed no later than 11:30 or midnight.
We will usually work during the weeknights on our own projects, but take the weekends off to have fun and chill and get caught up with errands and stuff.
I try to make sure I'm getting enough rest, and when I finish up a milestone in development, I try to take a few days off if I can.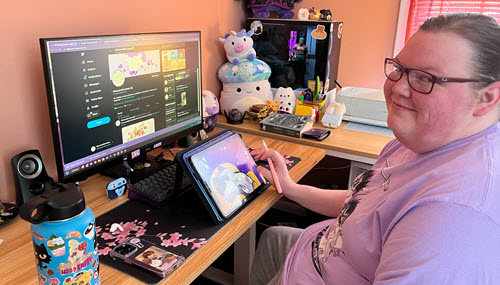 HHKB: Do you use HHKB in your regular occupation?
Fred: Absolutely! There was a bit of a learning curve when I first started using my HHKB, but I quickly overcame it and found that it works just fine in the apps I use on a daily basis, such as Photoshop, Illustrator, InDesign, After Effects, and Premier Pro.
With the HHKB having such a small footprint, my mouse has more room to move around, which is important for the mouse-heavy apps I use in my regular job. It's also a lot more comfortable, too!
HHKB: How familiar were you with mechanical keyboards before picking up your HHKB?
Fred: I broke into the hobby back in 2020, after a couple of years of using gaming type mechanical keyboards. I built my PC a couple of years prior, and was dipping my toes into the hobby after using basic keyboards for years.
The problem I kept running into was that I was just not really satisfied with mechanical keyboards, even custom boards. I would buy a board, try it out, realize it wasn't for me, then sell it.
I tried building a few, but that didn't even really make me happy either, even with mods.
There's something about MX-style switches that feels very "unrefined" to me. I can't quite put my finger on what it is, but they feel a bit too clunky and a bit janky.
At the tail end of 2020, Crystal Story: Dawn of Dusk's development started in earnest, and I needed a keyboard that would stop me from getting all these different boards. I looked into the HHKB boards after hearing so many folks talk about them on Reddit, various forums, and seeing videos about them on YouTube. Most importantly, these were boards made with developers in mind, and weren't over designed or gaudy looking, and I heard the Topre switches were legendary for their tactility and sound.
I was very skeptical, but I decided to try one out at the end of the year after finding someone selling both a Charcoal Pro 2 BT and a Classic White JIS model on eBay. The latter one intrigued me because I wasn't aware they made a JIS layout HHKB, and this one had arrow keys.
HHKB: How did the HHKB win you over?
Fred: I originally went in thinking: "Well, if I can't get used to the arrow-key-less layout of the regular model, I can fall back on the JIS model." I really expected to just use the JIS layout because of the arrow keys, and that would be it, but after a while of using both, I kept going back to the OG layout. I thought I was going crazy, but something about that layout stuck with me.
I loved the way the keys felt, the position of the Delete (backspace) and Control keys, as well as the general look and feel. They both felt so solid and thoughtfully built. I also noticed that I was typing faster and was making way fewer errors, too. It was awesome … except it didn't match my setup's aesthetic in terms of color.
Fast-forward to the summer of 2021, I decided to retire those Pro 2 models and pick up a HYBRID in Classic White, so I could have the multiple connectivity options and features (I was using both a Mac and PC at this point) and to better match my setup.
I sold both, and with those funds, I bought my first new HHKB! I thought the Pro 2 was great, but I heard that the HYBRID was even better.
Sure enough, after taking my new HYBRID out of the box, I knew they weren't kidding. The casing felt a lot stronger, with no flexing whatsoever. The domes felt smoother as well, but still had that signature feel and sound that I fell in love with.
One interesting thing I also noticed is that the keycaps were upgraded too. I had some extra keycaps that I bought directly from PFU, but I noticed that the keycaps on my new HYBRID model were a bit thicker and smoother than the older set, and that made an improvement to how well it felt to type on them.
I got everything set up, and tried out the new Keymap tool, setting Fn + Enter to be F5 (GameMaker's "Run Program" shortcut) and did a few customizations to the board, like picking up a set of Super Famicom artisans for the diamond navigation cluster, and PFU's aqua green and cobalt blue keycaps.
It's been nearly two years now since I've been using it, and I've never looked back. It's such an awesome little keyboard!
HHKB: What would you say is your favorite thing about the HHKB?
Fred: If I had to pick one thing, it has to be the board's aesthetic.
HHKBs have those signature "cheekbones," and that friendly appearance that I remember seeing in Apple's original Macintosh keyboard. To me, the HHKB is the Herman Miller Aeron of keyboards, if that makes sense. They're so well made and so full of character that they're instantly recognizable if you're in the hobby. They're also very minimalistic and clean.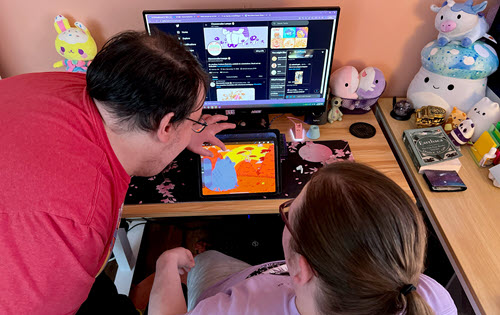 HHKB: Which models of HHKB do you own?
Fred: I currently only own my trusty HYBRID, having sold my Pro 2s to cover the cost of upgrading, but I'm itching to pick up a HYBRID Snow Type-S, since I've never tried a Type-S before, and I love the new colorway. I don't plan on selling the HYBRID I already own though. This one has been "in the trenches" with me during these past few years of development, so it's super-special to me.
HHKB: Where do you see yourself in 5 years?
Fred: If my current project does well, I'd love to make more games! I don't plan on making any huge career shifts, since I still see making games as a hobby, but I can't say what the future has in store for me. As long as folks like the games I make, I'm going to keep making them.
HHKB: Where can someone download and purchase your games?
Fred: Crystal Story: Awakening is the first game I made, and can be downloaded and played completely free from my Itch.io!
My current project, Crystal Story: Dawn of Dusk, is its sequel, and will be released soon. You can play the demo and wishlist it on Steam.
Be sure to check out Fred's links below:
Instagram: https://www.instagram.com/fredbreezyfosheezy
Twitter (personal): https://twitter.com/bredfrown
Twitter (Crystal Story): https://twitter.com/TheCrystalStory
More info on the game: https://bredfrown.itch.io/crystal-story
You can also check out the demo for Fred's upcoming new game,
Crystal Story: Dawn of Dusk on Steam:
https://store.steampowered.com/app/1746590/Crystal_Story_Dawn_of_Dusk/?curator_clanid=35482274