Today, we are honored to feature renowned keycap artist and standout social media influencer, Tinymakesthings! In the keyboard community, Tiny is well known for her remarkable artwork and artisan keycap creations. Keyboard enthusiasts around the world are amazed by her beautiful and unique keycaps! We are thrilled to learn more today about Tiny's journey! Let's begin!
HHKB team: First of all, please describe yourself in a few sentences.
Tinymakesthings: I go by tinymakesthings or tiny, for short, in the community. I make artisan keycaps, usually either with clay or with resin (sometimes both). I stream on Twitch a couple times a week either building a keyboard or making some keycaps. And I make videos on TikTok!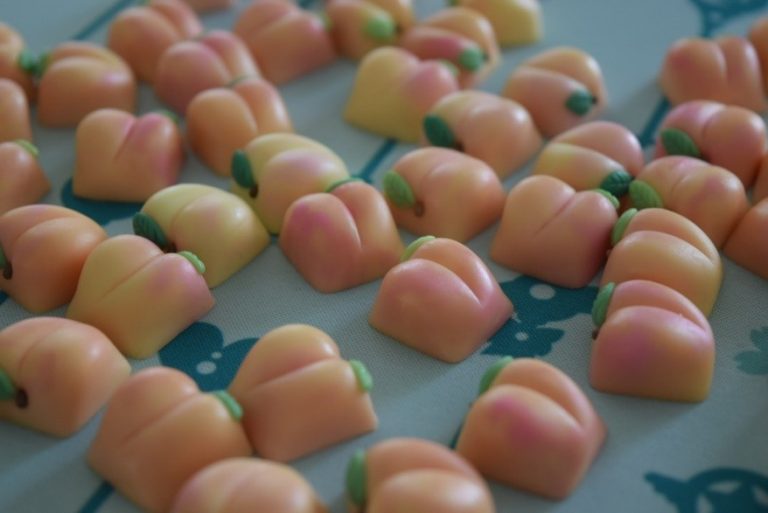 HHKB team: What is your occupation?
Tinymakesthings: I actually make keycaps as my full-time job! Although the job is definitely more of running a business (having to manage social media, do marketing, etc.) than just making the actual keycaps.
HHKB team: Where do you currently reside?
Tinymakesthings: Bay Area (Northern California).
HHKB team: What are your favorite hobbies?
Tinymakesthings: Well, mechanical keyboards is one of my hobbies, but that's a given I suppose! I dabble in hip hop dance; or I used to before the dance studio closed down. I'm trying to get into plants/gardening! And I enjoy cooking. Current goals are learning how to make a great salsa, guacamole, and pickling!
HHKB team: What got you interested in keycap artwork?
Tinymakesthings: I started out collecting other artists' works, and was inspired to make my own! Especially, after seeing not as many cute keycaps were being made.
HHKB team: What are your must-have items during your workday?
Tinymakesthings: My Macbook and iPhone (for writing emails, making TikToks, posting on social media, etc). And my DSLR for taking nicer photos! And of course, all the tools and materials I need for clay making and resin casting are must-haves too.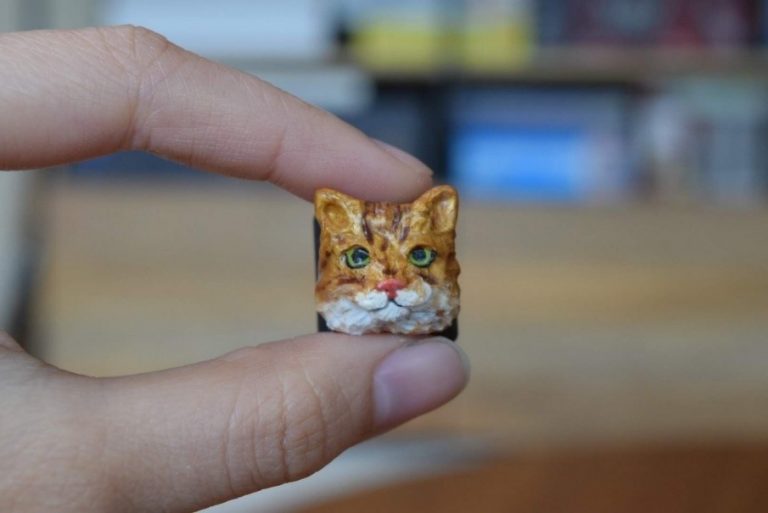 HHKB team: What is your favorite part of keycap artwork?
Tinymakesthings: I would have to say one of my favorite parts of making a keycap is the ideation. I get a lot of cute (or derpy) ideas and it's really fun to think about how it would end up working. I think another cool part is the part when I pull it out of the mold and get to see if it worked or not!
HHKB team: What is the craziest keycap creation you have ever made?
Tinymakesthings: I don't think I've done anything that crazy yet. I made someone a very tall skyscraper keycap. It wasn't meant to be very practical because it stood many times taller than the other keycaps, it was funny to see! I also made a cat keycap that was a wedding gift from a bride to her fiancé. They ended up having their photographer take photos of the exchange and they showed me the cap being part of their wedding day, which was touching to see! Also, the food keyboard that I'm making for TikTok is a bit crazy. I'm trying to make every one of the keys into some kind of food (61 keycaps in total). It's been a very long process and I'm still working on it (less than 10 keys to go!).
HHKB team: What are the biggest challenges of being a keycap artist?
Tinymakesthings: One of the biggest challenges for me is creating enough keycaps for everyone who wants one! It's hard because as much as I'd like to provide keycaps for everyone interested, I can't physically make one for everyone. Like any other art form, having to market my own keycaps is also a hard part of the job. Having to take pictures, announce sales, etc., takes away from the actual time I have to make the caps. Also, having to stay in the know and on top of all the different keysets, keyboards, and other keycaps people are making is rough (although maybe not necessary, but helpful).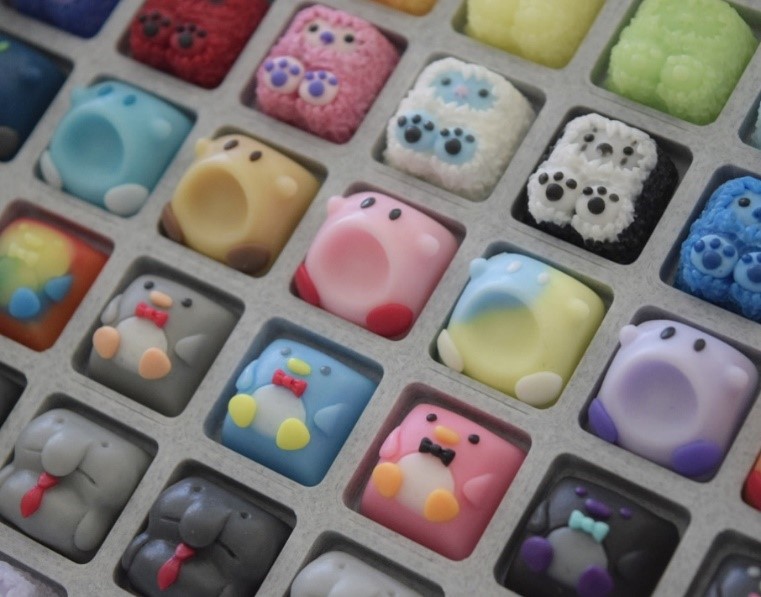 Thank you, Tiny! It has been such a wonderful experience and we are very fortunate to learn about your journey to becoming an incredible keycap artist!
Stay tuned, as we will being sharing part two of the HHKB Spotlight featuring Tinymakesthings, as she will be discussing her take on the HHKB, her experience at keyboard events, and what her future plans are!
Make sure to check out Tiny's beautiful creations on her social media!
Photo Credits: Tinymakesthings