For our last half of the conversation, we asked blackriver35 for his take on the Happy Hacking Keyboard (HHKB). Is this only my team and I who love hearing about the moment the HHKB fans found out about the keyboard? Anyways, let's continue!
HHKB: How did you hear about HHKB for the first time? And when?
blackriver35: Funny story, my first ever post about keyboards was this, "I really want to build up a 60% with some cherry blues or browns. Also, if anyone has had a good experience with a particular 60% model I would love to hear about it." This took place 4.5 years ago on geekhack, when I was first getting into keyboards. Several individuals responded including Ripster, SwitchNollie and ghostjuggernaut. They all disregarded my comment about building an MX board and went straight to recommending the HHKB. My biggest mistake was not listening to them and going another 2 years without ever trying an HHKB. Now, the HHKB is by far my favorite and most used keyboard to date. I absolutely love it!
HHKB: Could you tell us your first impression on HHKB?
blackriver35: When I first typed on it I think I just said, "Whoa, I get it now." People really hyped it up and I was not disappointed. It was exactly as they described it.
HHKB: Which models of HHKB do you own?
blackriver35: I currently own 3 HHKBs. I have a Standard White Printed Pro 2, Pro 2 Type S and Serial #99 A0 Pro 1. I would like to get a classic soon as well. I also would really love to get a Pro HG at some point, but that seems like it could be impossible.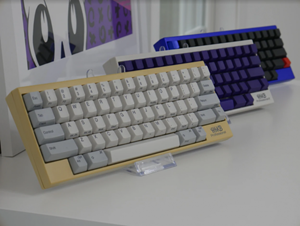 HHKB: What is your favorite part of HHKB?
blackriver35: I love the feel. The sound is good too, but the feel is just so nice. The only word I can think of to describe it is buttery. It's just so smooth and nice to type on. I don't think I will ever find a keyboard I enjoy more.
HHKB: "Buttery." We love that! Do you see any rooms for improvements?
blackriver35: I have never tried a Classic so I can only speak on the Pro 1 / 2 design. With that in mind, I have two suggestions:
Add some weight and provide more grippy feet. On a large desk mat I find that the keyboard does slide around a bit. Some rubber bumpons fix this issue for me, but a clean factory design would look much better.
Insert some brass threaded nuts on the PCB mounting locations. I have stripped several of these after taking apart my boards. For longevity and modding purposes, using some brass threaded mounting posts would be huge.
HHKB: What do you think of the design of HHKB from an artist's point of view?
blackriver35: It is without question one of the most appealing boards out there. With blank keycaps it is a gorgeous board. Its symmetry, simplicity, color and subtle branding make it really special. I am a big fan of the white variants, but black is really sleek as well.
HHKB: Where or how do you exhibit your art work?
blackriver35: I exhibit it in a few places. My main focus is Instagram since I feel like it is the best platform for showing off what I love. However, I also use Reddit, twitch and my website to display some of what I do. I never have been in an art gallery or anything quite like that, but I would like to at some point down the road.
HHKB: Lastly, do you have any exciting new projects you are working on?
blackriver35: I am always working on exciting things (at least I think so), but most notably, I plan on building a full pc for my girlfriend very soon. I plan on putting a lot of work into it including painting, cable sleeving and what we call in the car world "Shaving". Basically just filling holes and making it look super clean.
As for keyboard projects, I would like to get a classic asap. Since the whole case and keycaps are PBT I would like to have a go at dyeing the whole board pink or something like that. Unfortunately, you can't do that with Pro 2 since it is ABS. But, the classic allows for it, so why not give it a try!
Thank you, blackriver35 for sharing your feedback on the Happy Hacking Keyboards. Interviewing our super fans like him teaches us a lot about HHKB's strong features and rooms for improvements from our users' points of view.
Follow his art work here!